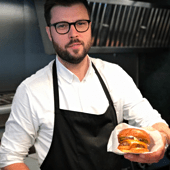 Klaus Wittrup
Founder / Direktør – Home office
Everything started when Klaus Wittrup, the man behind Gasoline Grill, went to the United States as an exchange student at the age of 16. On the way home to his host family's house, they decided to stop for food – here Klaus ordered and tasted his first American burger.

It stuck with him when he returned to Denmark. But once home, eating a burger did not give him the same sensation. He searched for something similar, but he could never find an equivalent, so there was only one thing to do… open his own burger spot. A very simple and authentic, high-quality burger for the Copenhagen burger scene.

The first location turned out to be at an old gas station at Landgreven, in the city center, which was an important starting point. With this unique location in place, the work on the full concept started. The goal for Klaus was to create a world-class burger, no compromises, simple, only organic ingredients, a sustainable business model and a stylish décor.

The first Gasoline Grill opened very quietly on April 26, 2016. No press, no advertising, just a small note on Klaus' personal Facebook page saying to stop by for a burger. It was sold out on the first day and has been sold out ever since.